12.22.2017
Wishing you a warm holiday season and joy and peace in the new year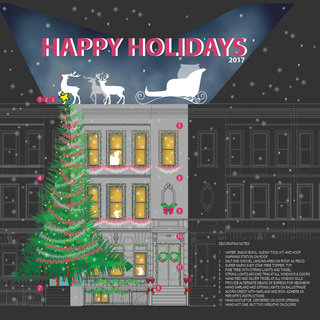 https://goo.gl/wLC1tk
01.10.2016
Wild Walk has been nominated for Building of the Year! The polls are open until January 31st! Let the voting begin! #everyvotecounts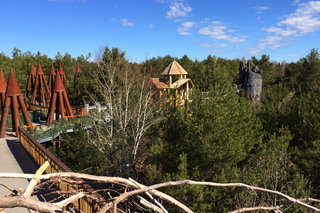 https://goo.gl/iU616F
12.22.2016
Learn more about our Stuyvesant Heights project from the @Brownstoner.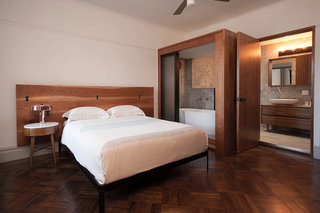 https://goo.gl/WdmRl6
12.14.2016
These images of the kitchen in the #StuyvesantHeights #Townhouse are giving us warm and fuzzy feelings, on this chilly #NewYork morning.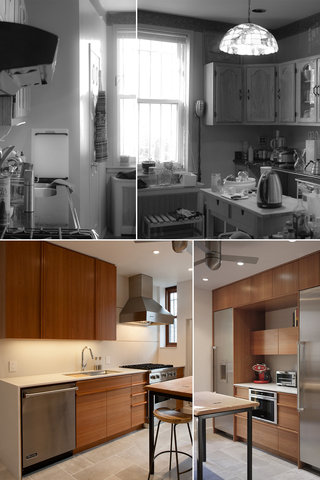 12.09.2016
The #neonsign for our #BioBAT project has been installed! #dreamsreallydocometrue – this couldn't have happened without Robbie from #ArtisticNeon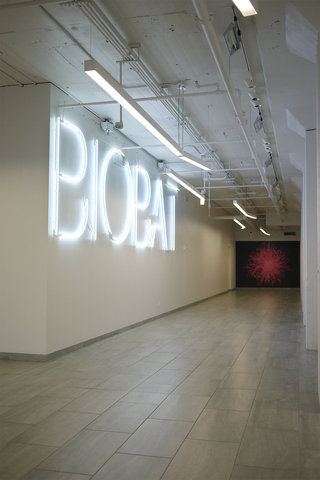 https://goo.gl/XYh3UM
12.07.2016
The transformation of the basement in our Stuyvesant Heights Townhouse is amazing! #ifwedosaysoourselves #tootingourownhorn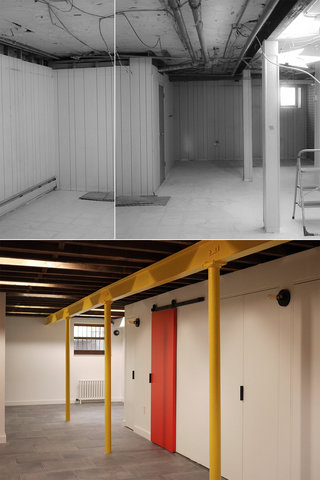 https://goo.gl/0d3qU2
11.30.2016
Our Stuyvesant Heights Townhouse is finally complete! Here is before and after shot of the garden.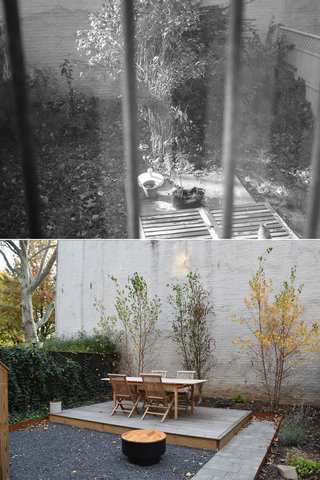 https://goo.gl/4Sn64L
11.23.2016
Our BioBAT sign lives! A special thanks to Robbie from Artistic Neon in Queens, NY.
https://goo.gl/3T7MLQ
11.9.2016
We are working with BioBAT towards what will be a series of design interventions in their raw, industrial space in the Brooklyn Army Terminal to enhance the vibrant energy and creative nature of the start-up science facility and strengthen its connections to the Sunset Park neighborhood and broader life science community.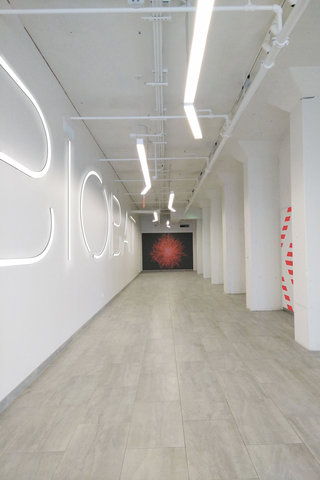 https://goo.gl/20nZuL
https://goo.gl/mzMEpK
11.2.2016
Submitted our take on the 2015 Metis Garden competition in Quebec, Canada.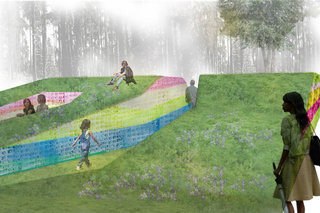 https://goo.gl/sjh5re
https://goo.gl/d1gFcG
10.2016
Completed this lobby entrance in Shanghai, China.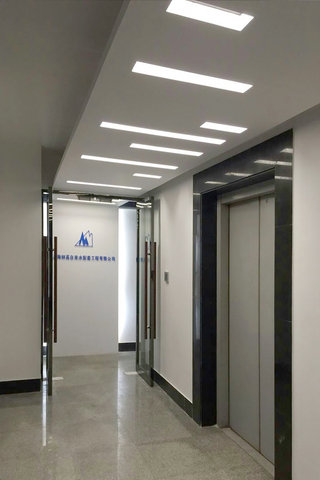 https://goo.gl/LL4P7h
08.10.2016
We're really into giving people a serious case of the #structuralchills #wildwalk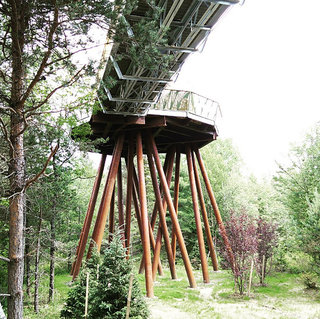 https://goo.gl/4qBJyV
01.15.2016
Wild Walk won an award.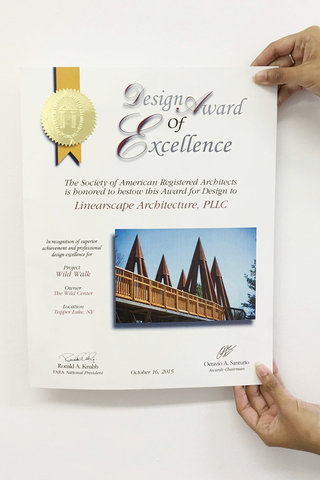 https://goo.gl/nKSVpU
10.2015
We presented our proposal for brownfield redevelopment along the Gowanus Canal at the Spaces and Flows conference in Chicago this week! This project was done in collaboration with landscape architect, Judy Tung.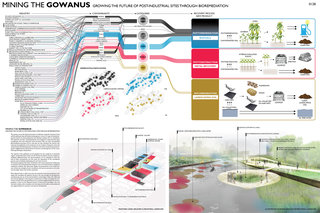 https://goo.gl/kFHjI3
07.2015
The Wild Walk opens to the public on July 4, 2015.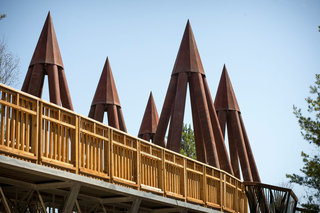 08.2014
Construction is underway at The Wild Center!
https://www.youtube.com/watch?v=I9a_a_Eiub0&feature=youtu.be
07.2013
Linearscape will be working with The Wild Center in the Adirondacks on the construction of their new interactive nature walk.
http://www.wildcenter.org
02.08.2013
Linearscape Puts Together Coincidence and Certainty to Build a Young Firm
http://www.aia.org/practicing/AIAB097673
10.2012
Linearscape featured in the October 2012 issue of Metropolis Magazine as one of seven visionary teams who reimagined the urban experience.
http://www.metropolismag.com/October-2012/Brave-New-City-Taking-a-Walk/
Fall 2012
Real Solutions at Harlem's Edge
http://www.nxtbook.com/nxtbooks/naylor/ARCQ0412/index.php?startid=39
07.26.2012
Winners of
ENYA
's Harlem Edge Urban Agriculture Design Competition Showcased at New Exhibit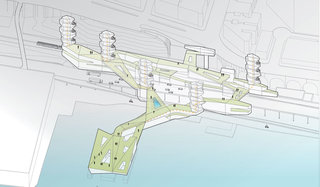 http://inhabitat.com/nyc/winners-of-enyas-harlem-edge-urban-agriculture-design-competition-showcased-at-new-exhibit/
07.14.2012
Harlem Edge Cultivating Connections
Symposium at the Center for Architecture. New York, NY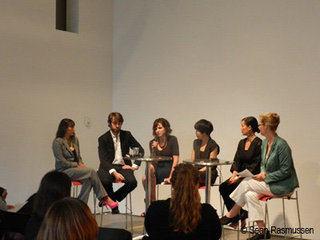 07.13.2012
http://ny.curbed.com/tags/linearscape
07.12.2012
Architects imagine food, farm and ferry hub for abandoned 135th St. Marine Transfer Station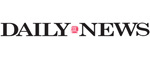 http://www.nydailynews.com/new-york/uptown/architects-imagine-food-farm-ferry-hub-abandoned-135th-st-marine-transfer-station-article-1.1113383
07.12-10.31.2012
Harlem Edge Cultivating Connections
Exhibition at the Center for Architecture. New York, NY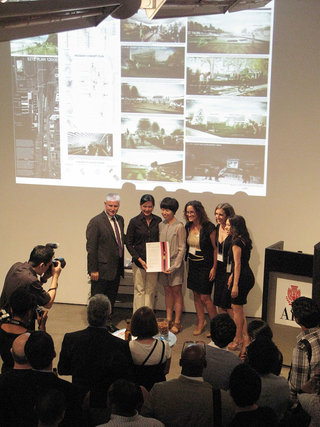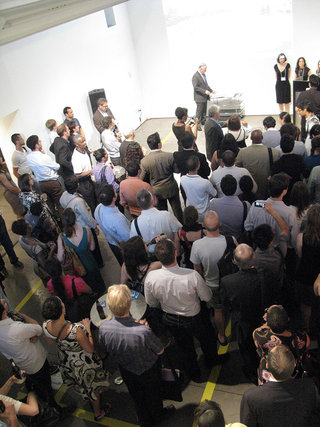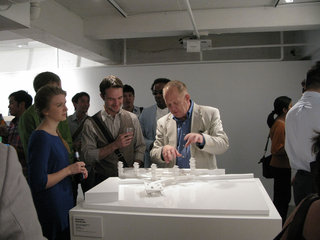 07.11.2012
Linearscape Architecture Wins Harlem Edge/Cultivating Connections Waterfront Design Competition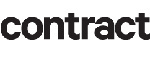 "
http://www.contractdesign.com/contract/news/Linearscape-Architec-7450.shtml
03.21.2012
CB9
looks to fund marine transfer proposals.
http://columbiaspectator.com/2012/03/23/cb9-looks-fund-marine-transfer-proposals
03.12.2012
An Ecological City Model for the 21st Century | Sym'bio'pia | Linearscape

http://worldlandscapearchitect.com/an-ecological-city-model-for-the-21st-century-symbiopia-linerscape/#.U5X17iiammB
02.29.2012
Emerging New York Architects Competition Unveils the Winning Designs for the Harlem Edge Waterfront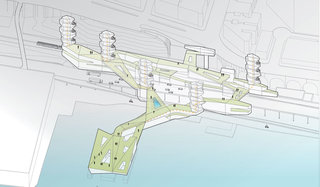 http://inhabitat.com/nyc/emerging-new-york-architects-competition-unveils-the-winning-designs-for-the-harlem-edge-waterfront/
02.2012
Linearscape wins the first place 2012
ENYA
prize.
It has just been announced that Linearscape has won the first place
ENYA
Prize for their submission "Sym'bio'pia" to the Harlem Edge Competition. Sym'bio'pia is a prototype for urban environments where food can be locally grown year round in controlled symbiotic environments and distributed through existing networks of farmer's markets, grocery stores, and community supported agricultural pick-up areas. This proposal attempts to demonstrate the immense potential this type of facility would have for bringing nutritious food to dense urban environments around the world without the need for large tracts of land or pesticides.
http://www.enyacompetitions.org/winners.html
10.16.2011
Linearscape has recently completed a proposal for the New Taipei City Museum of Contemporary Art. The design for this proposal creates a cultural campus that inspires the divergent forces of nature and urbanity, ideas and reality, and art and quotidian life to converge and dissolve into a fluid environment in which these forces become symbiotic and nourish the cultural vivacity of New Taipei City. This design strives to generate an environment where art, artists, and the people and lifestyles from whom it was inspired gather together to create a forum in which to experience and contribute to the creation of art.
linearscape: new taipei city museum of art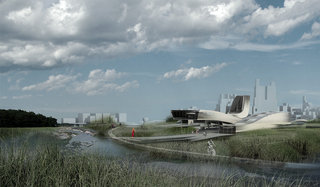 http://www.designboom.com/architecture/linearscape-new-taipei-city-museum-of-art/